Mark Demicoli
30 March 2012 09:30:01 PM
Anyone heard of FaceBook?
Yes, the Planet is totally consumed by Facebook. Socialising has always and will always be our favourite pass-time. While FaceBook isn't the only social networking tool around, it has maintained it's place as Number 1 for years.
And, a fantastic tool it is for keeping up with friends and enhancing your day. I was about to say 'wasting time', but realised that would be stupid. Work should not consume 100% of your day, any day. Plus, FaceBook can have fantastic benefits for your business services.
In old parlance, 'word-of-mouth' was the catch phrase which represented the Holy Grail of cheap marketing. If we take a look at just that one angle of FaceBook, this is exactly what it allows people to do without you lifting a finger. What I'm talking about is that FaceBook makes it easier for people to gossip (and don't we know that). If you have a good product or service, then you can rest assured that it will be "Liked" or Not, just as proportionately on FaceBook as in the real world.
So, there's no excuse for not getting your services socialised.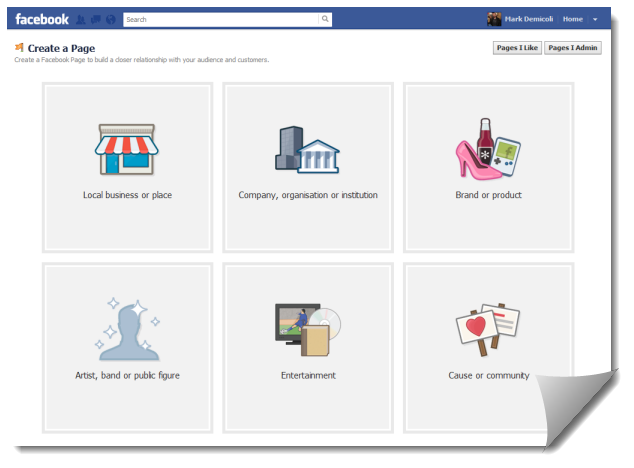 The process is ultra simple, and you could have your services socialising with all your contacts (and beyond) within minutes.
While I don't think it's necessary to guide you through the entire process, the key piece of information that will connect FaceBook with your ClickBook profile is your ClickBook profile address. If you don't know it, simply log in to ClickBook and click the "Preview Public Profile" at the top right. This preview will show you the address of your ClickBook profile.
For example:
MarkEmporium.ClickBook.net
You must use this address when FaceBook asks you for your site address (see below).

[UPDATE]

CLICKBOOK NOW HAS A DEDICATED FACEBOOK APP WHICH YOU CAN ADD TO YOUR NEW BUSINESS PAGE. ONCE YOU'VE REACHED THIS STAGE, YOU CAN INSTALL THE APP FROM THE FOLLOWING ADDRESS:
http://apps.facebook.com/clickbook

[END UPDATE]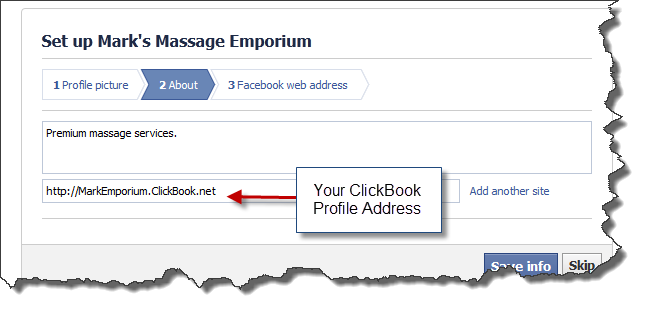 Once you've set up your FaceBook Business Page, it's easy to "Like" your own page to get the ball rolling, and also invite your contacts to check it out and "Like" it too!
You will discover heaps of ways to keep your services attracting people, by starting conversations, posting questions and special offers.
Get started right now with
FaceBook Business Pages
.
Comments Disabled