Mark Demicoli
17 January 2014 12:22:21 AM
In
Part 1
, we explored the possibility of restricting certain services to particular days of the week using a single Available TimeBlock, and created a simple example.
In Part 2 (you are here!), we look at how to repeat the TimeBlock so that we can extend the restriction into the future.
There are two ways of doing this. Which option you choose depends on how much flexibility you need to modify or over-ride the TmeBlock in the future.



Option 1: Extend End Date of TimeBlock
In our example, we exposed a service to Tuesday mornings only, in 3 timeslots - 9AM, 10AM and 11AM. If we simply want to extend this well into the future so that every week is the same, all we need to do is change the end date.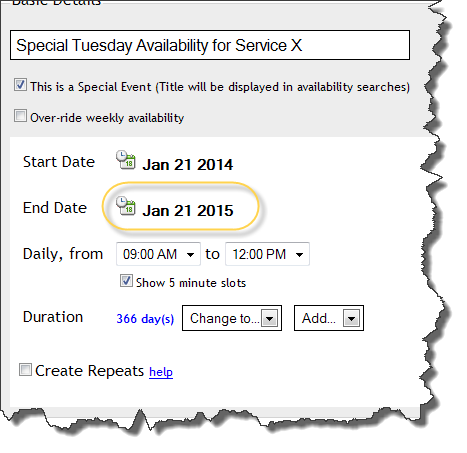 In the image above, you can see that I have set the End Date for a whole year ending Jan 21 2015.
The
Advanced Duration Options
section shows the
Effective Date(s)
for Tuesdays all the way into 2015. Notice that we have only Tuesdays exposed here in the
Time Ranges
field. If we like, we can adjust this TimeBlock later on by adding / changing hours on Tuesdays, or even other weekdays.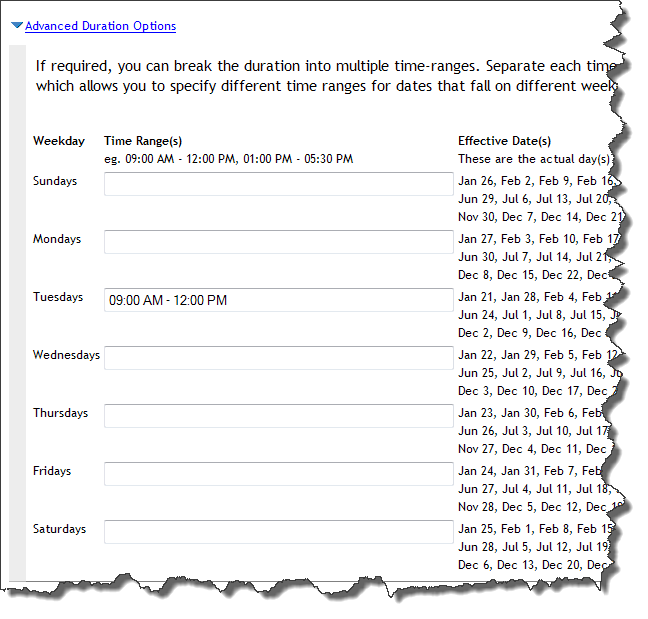 In the Custom Start Time section, we can see the custom times that we entered in Part 1. The forced start times ensures that the 3 hour period is filled optimally by our 1 hour service. If you want more flexibility for your clients rather than forcing these start times, you can remove custom start times and ClickBook will dynamically offer start times based on the
Appointment Start Interval
.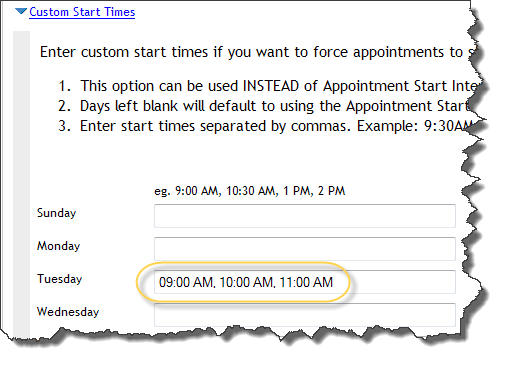 Option 2: Repeat (copy) the TimeBlock
The second option is to repeat the TimeBlock, which is the same as copying it to multiple dates. This option create multiple individual TimeBlocks that can be adjusted or cancelled individually.
To repeat a TimeBlock, edit the TimeBlock by clicking it from the appointment view, then tick "Create Repeats". This will show you repeat options, allowing you to select the repeat frequency (weekly,daily, monthly etc) and the number of repeats to create. The list of repeats that will be created are displayed.


TIP
: It is possible to create totally irregular repeats by first entering the number of Repeats, then clicking on the date of each repeat to set your own custom dates.